Have you got a house full of artists, but the thought of painting with them makes you cringe? Are you envisioning soaking half dried paint out of brushes that have been dipped up to the handle and wiping up paint spills? Or maybe you're tired of figuring out where to lay all their artwork while you wait for the paints to dry?
Here's an answer to your troubles: the Thin Stix Creativity Pack from The Pencil Grip, Inc. I recently had the opportunity to try out this innovative product with my young artists.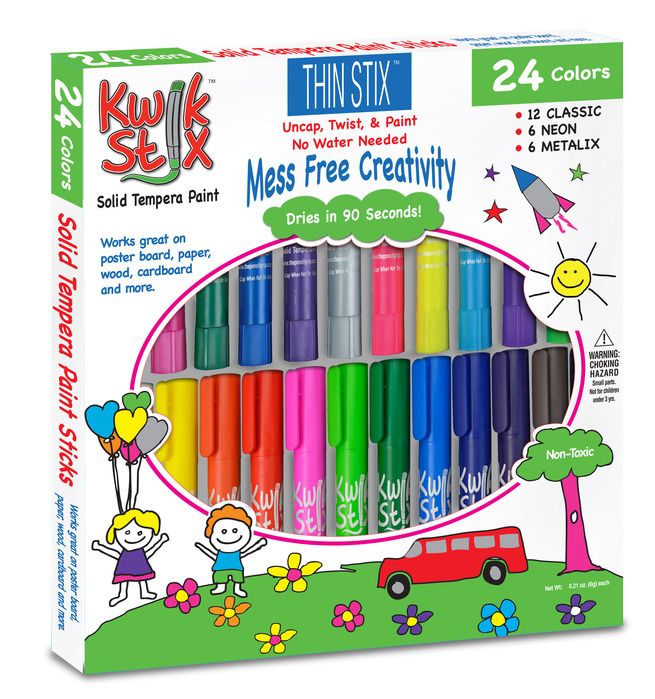 The Thin Stix Creativity Pack
features 24 solid tempera paint sticks:
12 Classic
6 Neon
6 Metalix
Paints are washable, non-toxic, and free of nuts, eggs, and gluten. They dry very quickly (less than two minutes if it's not a thick layer) and each comes with a snap on cap in a twist-up tube.
The whole set comes in a reusable plastic tray for easy storage, but Thin Stix are also easy to transport in a tote bag, backpack, or even your purse for art on the go.
How did we use Thin Stix?
I don't normally mind getting out the paints and other messy art supplies around here, but there are times when it is nice to use a product that is easy for kids to get out and put away with minimal fuss.
Like when they want to paint at the kitchen table while you are cooking dinner. Ordinarily, I would put them off until later, but with Thin Stix there's no need for them to wash out their paint brushes or move a wet painting when it's time to set the table---they can just put the paints back in the tray and hang up their already dry paintings on the wall or stack them out of the way.
How cool is that?
The solid tempera also works pretty well on 3-dimensional objects. Like pumpkins.
Pretty handy when you've waited until Halloween morning to buy your pumpkins and the family is bustling to get the house ready for that night's Halloween party---it was easy to send the two youngest kids (ages 8 and 12) to go paint pumpkins on the picnic table in the backyard. ;)
What do we think of Thin Stix?
I was interested in checking these paints out from an adult's point-of-view. I know they are aimed at kids due to the convenience and mess-free nature of the solid tempera, but I also know that kids will get frustrated with an inferior product.
Can you do real art with Thin Stix? Or are they mainly for crafts and mess-free coloring?
The answer is: yes and no. They do have real art possibilities, but they may be better suited for crafts or very large paintings.
Size-wise the Thin Stix are little thinner than a glue stick, but thicker than a fat marker. The sticks do not come to a point, but are flat, like glue sticks (which they would be anyway, once you start using the paint). The width of the sticks makes it difficult to make precise marks, but you can use the edge of the stick to get a line and some precision. If you are working on a very large piece, it will be easier to be precise.
If you just do a single layer of paint, you'll tend to get uneven coverage, but paint can be layered, and different colors can be layered over each other. The consistency of the solid tempera is different from other paints. It's little like a cross between a glue stick and oil pastel. It smears and blends well while still wet and you can easily blend by layering colors over each other to create depth and texture. If you get another color on the stick, it's easy to wipe it off with a paper towel.
Layering the paints does increase the drying time by a good bit, but we are still talking about a piece drying in minutes instead of hours.
It may seem weird that I keep comparing these paint sticks to glue sticks, but it turns out they have a lot in common. Just like glue sticks, the Thin Stix also leave behind little globs at times (you can see some on this mountain painting) and their texture is also similar.
We found that some colors give much better coverage and blend better than others. Some of the the Metalix, for instance, cover well and have a neat metallic sheen, but it was hard to tell that a couple of them were metallic colors once they were on the page. I did find that they show up better if layered over non-Metalix colors.
Some of the light colors don't show up at all over darker colors, which may limit you if you want to paint on darker colored papers or things like pumpkins. The yellows, for instance, work best on plain white paper.
The white is fantastic! It works really well for creating highlights and blending.
I do wish there were darker colors in this set. Even the "dark" colors lack a true depth to them, but I was able to overcome this by using multiple layers of a color or layering multiple colors to achieve that depth.
Overall, Thin Stix are a neat art supply to have on hand.
They are easy to clean up and require minimal supervision (assuming your kids are beyond painting walls or putting things in their mouths, which mine are), they transport easily (put them in your pocket or purse), and they can be layered and blended like real artist's paints, but they do have some limitations.
If you are looking for greater precision, you'll want to use a brush or paint on a larger scale. I would love to see The Pencil Grip, Inc. come out with a thinner version of these solid tempera paints---maybe with an automatic sharpener…kind of like a lip pencil.
Check out what other Crew members had to say about the Thin Stix Creativity Pack: