If you love using biographies or historical fiction to help bring your history studies alive in your homeschool, Bessie's Pillow will be a welcome addition to your early 20th century line-up. Based upon a true story, this book from Strong Learning, Inc. is about a young Lithuanian immigrant's journey to America and her new life there.
I've got a treat for you today: a special guest blogger. My 13-year-old daughter, Mary, recently read this book and has agreed to review it.
Mary's Review of Bessie's Pillow
Bessie's Pillow is a story about a young woman named Boshka's journey to America and the life she makes for herself when she arrives. It begins in 1906, when Boshka (who's name is later changed to Elizabeth), an 18-year-old Jewish immigrant, flees from within the Pale of Settlement, specifically, Lithuania.
In 1906, Lithuania was part of the Russian Empire, and all the Lithuanian Jews were rounded up and forced to live together in a place called the Pale. It is out of the harsh treatment and brutal conditions of the Pale that Bessie is journeying, hoping to make a better life for herself in America.
Right before she boards the train out of Vilna, Lithuania, one of Bessie's neighbors comes to her with a strange request: to take a handmade pillow to the woman's son, Nathan Dreizen, who lives in America. On the pillow are the words: May this pillow bring you peace. So Bessie carries the pillow all the way across the Atlantic ocean, and after many years it does, in the end, bring her peace.
Bessie's Pillow is told in the first person present tense, an unusual perspective, so it took me a while to get into the book, but I still really enjoyed it. I do wish that there was a bit more description, though, because when I read I visualize the characters and their surroundings, and I had trouble doing that with this book. Because of this, sometimes I felt disconnected from the plot, and not drawn in , like I usually do.
I like the main character, Bessie, though, because she is such a strong character. Instead of marrying and letting her husband take care of her, like most women did at the time, she found her own way in the world. Even after she did marry, she and her husband, (spoiler alert) Nathan, shared equal responsibility. After his death, she even took over his business.
Before she met her husband, she had two other marriage proposals, but turned both of them down: "…then I realize what is wrong. His American dream is different from mine."(pg. 34) Bessie knows from the start that her future does not lie with either of them.
Bessie's story in based on an the true story of the author's grandmother, Bessie Markman Dreizen. She escaped from the Pale and immigrated to America, just like in the book. She faced many problems and had many sorrows, just like in the book. But she also had many joys and happy memories, just like Bessie.
~Mary
Mary recommends Bessie's Pillow for ages 12 and up.
Companion Website for Bessie's Pillow
In addition to Bessie's story, the book also contains an extensive appendix with numerous extras, including photographs from Bessie Markman Dreizen's life, information about "Bessie's America," and links to various online resources.
You can also find all these resources and perhaps more (including clearer copies of the photographs) on the free companion site, Bessie's America. The website makes it easy to access lots of neat things, including links to trailers of movies that were playing during Bessie's lifetime, music, documentaries about current events of the time, and more. This would be a great resource to add to your middle or high schooler's history studies, but even elementary students may enjoy some of the videos.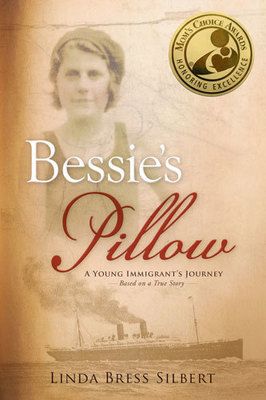 Read more reviews of this book from my fellow Homeschool Review Crew members here: