Are you a blogger educating one or more children at home? Ever wanted to receive educational resources to use with your kids and review on your blog?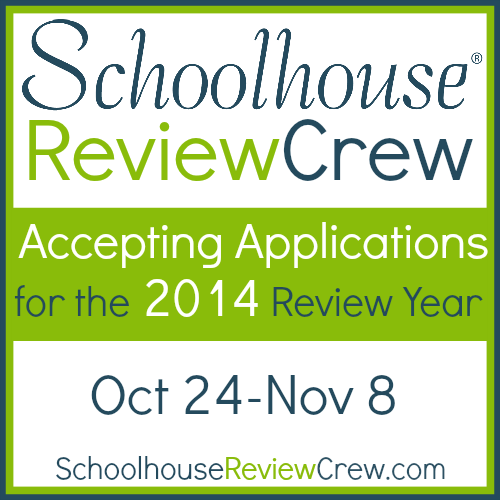 The Schoolhouse Review Crew is now accepting applications for 2014! This is an amazing opportunity---and I speak as someone who has been a Crew member off and on since 2008. Here are just a few of the wonderful products our family has reviewed this year for the Crew:
See It and Say It Flip Flop Spanish
Supercharged Science's e-Science
While the Crew is a great way to try new things, there's more to it…
I've established many enduring friendships with other homeschooling bloggers over the years through the Crew. We've shared parenting/teaching tips, encouragement, technological know-how, virtual hugs, and prayers.
Our family will be taking a break from the Crew for a bit because we have so many other things going on, but it has been a very rewarding experience.
So, what are the requirements to be a member of the Schoolhouse Review Crew?
It's a job, but also an adventure. In addition to being a homeschooling mama or papa, you need to:
have a blog where you post regularly (at least 1x/week)
have an established following with publicly visible followers
be active on at least one other social media outlet (like FB, Twitter, Pinterest, etc.)
be able to meet deadlines
be able to follow instructions/guidelines
be willing and able to use each review product with your kids for approximately 6 weeks
If your homeschooling schedule is flexible, you like to try new things, and you can meet obligations…the Schoolhouse Crew is interested in "talking" to you. To get more complete details to see if this might be your next big adventure, please go to this link. Applications are open from now until November 8th.