Emma (age 4) is a little impatient when it's time to cross the street. In fact, it's a fight to get her to hold my hand and wait…she's so focused on where she's going that she forgets to look and see what might be coming.

I recently had the opportunity to review a board book from Greene Bark Press just for kids like Emma!
Look Left, Look Right, Look Left Again
by Ginger Pate
for ages 3-8
$8.50 (plus shipping)
Wally Waddlewater wants sooo much to be a big boy and cross the street all by himself, but his Mama knows he needs more practice, not just in looking both ways, but in taking his time and being aware of all the hazards around him.
Hmmm, sounds just like a little person I know.
Throughout the course of the book, Wally and his Mama will look out for a buses, cars, fire engines, trains, and even an elephant! And, yes, Wally does finally get to cross the street all by himself, because he's learned to be patient, observant, and careful.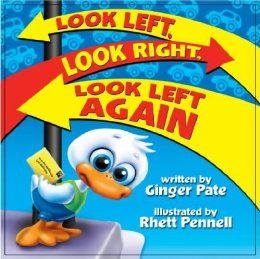 From the book:
"Look left…

Look right,

Make sure the cars, buses, trucks, trains and elephants are out of sight."

He remembered then, to look left again.

He crossed the road by himself.
This is a sturdy, colorful book with a great message for kids. Emma often tries to wriggle her hand out of my grasp and run ahead when are walking to church. Wally's story reminds her of why she needs to be careful and wait for Mommy.
Emma says: I LIKE it!