When my 13-year-old son, David, caught me watching Supercharged Science's video explaining the e-Science online program to decide if I'd like to receive it for review, he said: "Oh, it's Miss Aurora! Oh please, oh please, oh PLEASE?!"
He was referring to Aurora Lipper, a real live rocket scientist, creator of e-Science, and star of numerous free science webinars that we've attended.
I think he is in love. Not romantically (don't worry,
Mr. Lipper!), but with Aurora's infectious enthusiasm and her willingness to show him how to build cool stuff that teaches through doing.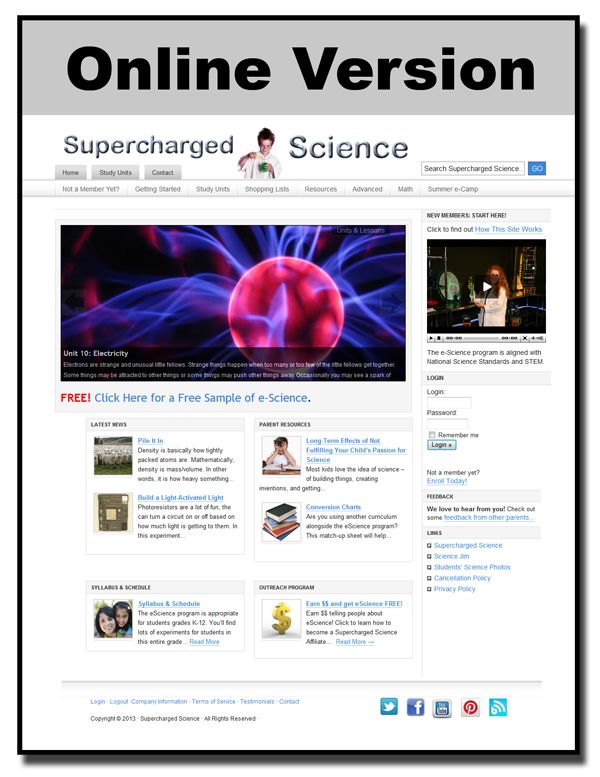 e-Science
pricing:
$37/month for K-8
$57/month for K-12 (includes all K-8 content, plus more advanced reading and experiments for high schoolers)
30-day money back guarantee
What do you get?
When your subscription begins, you will receive immediate access to the first 7 study units. In subsequent months, you will have access to additional units. You can contact Supercharged Science at any time to request access to later units (more on why you might want to later).
e-Science is aligned with national science and STEM (Science, Technology, Engineering, and Mathematics) standards.
Mechanics

Force
Gravity
Friction

Motion

Velocity
Acceleration

Matter

Atoms and Density
Solids

Energy 1

Levers
Pulleys

Energy 2

Potential Energy
Kinetic Energy

Sound

Vibrations
Resonance

Astrophysics

Particle Physics
Astronomy
Relativity

Chemistry 1

Molecules
Chemical Kinetics

Light

Light Waves
Lasers

Electricity

Circuits and Components
Robotics

Magnetism

Magnets
Electromagnetism

Alternative Energy

Basic
Advanced

Thermodynamics

Temperature
Heat Energy

Electronics

Bread Boards
Circuit Boards
Basic Electronics
Digital Electronics

Chemistry 2

Intermediate
Advanced

Life Science 1

Living Organisms
Cells
Genetics
Microscope Labs

Life Science 2

Prokaryotes
Protists and Fungi
Plants

Biology 1

Invertebrates
Fishes, Amphibians, & Reptiles
Birds & Mammals

Biology 2

Skin, Bones, & Muscles
Digestive System
Cardiovascular System
Respiratory & Excretory Systems
Controlling the Body
Diseases & Defenses

Earth Science (coming soon)
Also provided:
"unit zero" (an overview of the program which explains the 18 key scientific principles, 10 of which your kids will need to know about before college)
Tips & Tricks on teaching the scientific method
Mathemagic (learn some cool math stuff)
Parent Resources
Printable shopping lists for supplies for experiments
and more
As you can see, each unit has 2 or more lessons. Each lesson can take 1-2 weeks (or much more) depending upon how deeply you dig into it and how many experiments you choose to do (there are 600+ experiments overall!).
You could quite comfortably spend a month on most units, and much longer on more involved units like Biology 2, and still have plenty of material to come back to at a later date for deeper learning. There is years of material here.
Each unit provides lesson plans, and each lesson has:
Highlights
Reading
Videos (this is where you'll find your demonstrations and info for conducting experiments and activities, complete with instructions and materials lists)
Exercises (questions for review or testing knowledge, answers provided)
I recommend starting with the Highlights and then digging into the videos and experiments. Older kids will probably want to follow up with the reading to learn more, but Aurora does explain the concepts behind the experiments in the videos---I've not found it necessary at all to read the materials to the younger kids. They've learned tons!
The units are designed to be somewhat self-contained, although certain units do naturally come after certain other units. A student would have trouble understanding Unit 14 (Electronics) without first studying Unit 10 (Electricity), for instance. You'll also find that some units re-use materials from previous units. For the most part, though, you can pick and choose which units to investigate.
e-Science can be used as a complete science program, but it can also be used alongside your own science textbook. In fact, they've provided these handy charts that will allow you to match it up with most of the popular homeschool science programs.
In addition to the program itself, you will also need materials for the experiments. Many of the projects can be done using household materials and inexpensive things like popsicle sticks, plastic spoons, and bamboo skewers. Some of the more complicated projects will require specialty materials, like motors and switches.
How are we using e-science?
For review purposes, we received access to all currently available study units. I am using this program with David (age 13), Mary (age 9), Peter (age 7), and Emma (age 4).
I've allowed David, my science geek, to take the lead in choosing what we'll study. Surprisingly, he decided to start with Unit 1 (Mechanics).
Hmm, catapults. Ok, maybe that wasn't such a surprising choice after all.
We started with the highlights and dived into the videos. Some were things that we've tried before, but there was often a new twist, or an explanation that made more sense.
And then there was the culminating project. We had never tried to make a hovercraft before. We spent an afternoon trying to get it to work…and failed. Oh, you're thinking, "What the experiment didn't work?"
One of the things I really love about e-Science is the fact that it doesn't come with a kit of stuff that's tested and guaranteed to work---I'm odd that way, lol!
You see, we've done lots of kits. We've done kits on electricity, and motors, and mechanics. The trouble with kits that always work is that they don't allow enough room for failure. If you follow the instructions exactly using the kit materials you will succeed---that might teach my kids to follow instructions, but it won't teach them how to solve problems when their project fails.
With the hovercraft project, we didn't have the exact parts, so we improvised. Some of our improvisation worked, and some not so much.
We spent an entire afternoon problem-solving! In the end, we still failed to get our hovercraft to work just right, but we came up with a list of possible fixes---and this is a project we'll definitely attempt again.
I also had David do the follow up reading, but found that the video explanations were more than enough for the younger kids.
The next unit we tried was Electricity. Because who wouldn't want to build robots?
Before we got to the robots, we reviewed circuits and components, things we've studied in the past, but Aurora has a way of explaining things that really sticks.
Among our experiments was a stove-top "battery" to remove the tarnish from silver:
The chemical reaction causes the sulfur on the silver to bind with the aluminum foil, leaving your heirlooms clean and shiny.
After on the left, before on the right.
We just dipped the bottom of the earring.
But this was all just an appetizer before we got to build cool stuff.
Here's David's Bumper Robot (has a "sensor" that causes it to reverse when it runs into something:
Wired Remote Control Car:
What did we think of e-Science?
I think you can see it's been a pretty, ahem, electrifying experience.
Couldn't resist. Sorry.
We really like e-Science. I like the discovery aspect of it. I like that Aurora lays out the concepts and gives the kids the mental tools and experience they need to create on their own.
Each of the robot projects, for instance, is designed to explore a particular aspect of robotics that can then be incorporated and redesigned into future, independent projects.
Oh yes, David has got all kinds of ideas floating around in his head. He can't wait to get to the electronics store…he wants to spend his birthday money on motors and stuff.
I love the problem-solving aspect to the projects. While e-Science is all laid out for you, there's more to it than just following directions. You are probably going to goof up some. In fact, Aurora recommends using heavy duty (mineral based) batteries because they won't overheat and leak acid the way alkaline batteries will…because chances are you'll have a few short circuits.
I do feel that most of the lessons are over the heads of my younger kids. While they are enjoying e-Science, I feel that this program really is best suited for middle school and up.
There are some very simple experiments that young kids can do on their own, but many of those you'll find in library books. The bulk of the cool stuff will require a lot of adult help. David was mature enough to be able to act pretty independently, but still needed some help with things like stripping wires, and such.
I also liked the shopping lists, but found that occasionally I needed more info---if I had pre-watched the accompanying video, I would have know, for instance, why I might want a rheostat instead of a potentiometer.
Overall recommendations:
We love e-Science. I highly recommend for middle school and up. If your kids are under 6th grade, I'd wait a bit.
Would you like to try out a sample from Supercharged Science to see what all the fuss is about? Click here to get the The Science Activity Manual and Video Collection for FREE (regularly sells for $30)