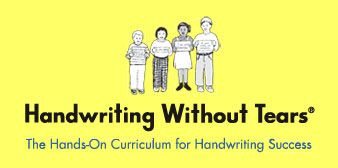 Handwriting Without Tears (HWT) is a multisensory program designed to help kids succeed at writing legibly with a minimum of fuss. As a member of the Schoolhouse Review Crew, I recently had the opportunity to try out HWT's 1st grade program with 7-year-old Peter.

I received the HWT 1st grade set which includes the Teacher's Guide ($9.25) and My Printing Book ($8.25) for review.
Handwriting Without Tears is one penmanship program that you can't get the full benefit from without buying the Teacher's Guide---there's so much more to this than just the workbook! HWT incorporates songs, pictures, physical activities, and memorable sayings to support your child in remembering proper letter formation and spacing. No matter what type of learner your child is, chances are you can find the right combination of activities to work for him.
What you get:
My Printing Book is 94 pages of gentle exercises, with cute pictures, and step-by-step directions demonstrating proper letter formation.
The Teacher's Guide is 184 pages and includes
instructions for teaching proper posture, paper placement, and grip
suggested activities for teaching and reinforcing proper letter formation
page by page instructions for each page of the student book
a suggested teaching schedule
Why We Tried HWT
Peter is technically in 2nd grade, but I chose to use the 1st grade level with him due to ongoing handwriting issues.
He is my wiggly, creative child. The one who can't sit still for a minute.
The one who draws his letters whatever way seems right for him, no matter how many times I model them for him.
I felt like the window of opportunity for getting him to develop legible, fluent handwriting was closing, because he was already becoming "set in his ways." We needed to take a step back and really focus on giving him a good foundation in proper letter formation.
We'd already done the workbook route. And the copy Mommy route. Would HWT work where other methods had failed?
What HWT Taught Me
Before I launch into how we are using this program, I want to say that I've learned so much about handwriting simply from reading the Teacher's Guide.
I learned that
we slant paper to help with fluency
letters started at the top are neater and more legible because we can naturally make smoother lines more quickly going from top to bottom than we can going from bottom to top
that full length (and especially fat"primary") pencils set kids up for failure because they are too unwieldy---now I know why my kids always treasure their pencil nubs
that too many guidelines can be confusing
How HWT Works
HWT is multisensory. What that means is that it doesn't rely on one mode of teaching the information. Letters are taught by seeing how they are formed (modeling), hearing a description, repeating the description (hopefully eventually internalizing it), and physically creating the letter. In addition, your Teacher's Guide also comes with a passcode which will give you online access to many extras, including extra worksheets, tracks from the Rap, Rock, Tap, & Learn CD, and video lessons. (Note: we did use some of the additional worksheets but skipped the songs---Peter will frequently run away screaming from cute learning songs, so it seemed best not to risk it).
Before you even get to the workbook, the Teacher's Guide begins with activities designed to help kids internalize proper letter formation. Our favorite is the "Wet-Dry-Try" method with a small slate chalkboard. First the teacher models the correct letter formation, then the child traces it with a small wet sponge, then traces again with a dry sponge, and finally "tries" by forming the letter himself with chalk.
Peter loves Wet-Dry-Try!
HWT does sell a mini chalkboard designed for this activity, but we were able to use a board we already had. After introducing each of the letters this way the first time, Peter's able to form them correctly in his workbook with only a little prompting. HWT also has a new Wet-Dry-Try app available for your iPad or Android tablet.
If you look carefully at the pic above, you'll notice that HWT has your child use the side of the board as a guide for beginning the letter and the full height of the board as a guide for the letter's height. When you transition to writing on paper, you start by forming each letter in a light gray box, before transitioning to lines.
Letters are introduced in groups determined by how they are formed. First the capital letters that all start with a line along the left side are introduced as the "Frog Jump Capitals," because they go straight down and frog jump back to the top to continue.
The gray boxes are ingenious! Peter could see exactly where his whole letter could be placed, and he did a good job keeping each letter inside the box.
Peter loves the physical descriptions of the letters. Letters "bump" down to the line like bumper cars, "d" goes up like a helicopter---the images make it fun to make letters! I can hear him whispering them to himself as he works in his workbook…and making them his own.
Notice that there are directions for both right and left handed kiddos---I know I'm going to be using HWT with left-handed Emma in a few years.
He says that capital "D" bumps the line and "EXPLODES" back to the top to make the curve.
Can you see his little explosions?
Also notice that HWT only uses 2 guidelines, unlike most programs which have a top line, midline, and bottom line. Having fewer lines seems to help with the confusion of "where to start those small letters," and since most of the letters your child will be writing will be lower case, it makes sense to avoid confusion there.
This worked pretty well for Peter, for the most part. It is a slight issue for him whenever he writes a tall lower case letter that starts above that midline or goes down and then up beyond the midline.
He's not always sure where to start or stop. Hopefully that will improve with practice---although I could see a very light top guideline being helpful.
Overall, Handwriting Without Tears has been a good fit for Peter and, after using it for a month, I'm already seeing some progress.
He doesn't always apply what he is learning to his other writing. Nope, not always. But when he does, wow, what a difference!
This is Peter's handwriting when he "draws" his letters his own way:
This is Peter's handwriting the Handwriting Without Tears way:
I think we'll stick with Handwriting Without Tears.
Highly recommended.

Disclaimer: I received a free copy of this product through the Schoolhouse Review Crew in exchange for my honest review. I was not required to write a positive review nor was I compensated in any other way. All opinions I have expressed are my own or those of my family. I am disclosing this in accordance with the FTC Regulations.