Jeannie Fulbright's Exploring Creation Series has earned a reputation for presenting elementary science in an accessible, easily teachable way without dumbing it down. Mary (age 9), Peter (age 7), and I are all enjoying learning about God's underwater miracles with Zoology 2: Swimming Creatures of the Fifth Day (Zoo 2) from Apologia Educational Ministries.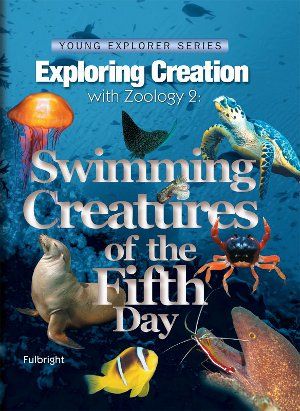 Each lesson contains several pages of reading interspersed with high quality full-color photos, diagrams, "try it" activities, and suggested experiments.
The text encourages pursuing Charlotte Mason's style of cementing learning through narration---there are no multiple choices questions or tests, but there are periodic discussion questions throughout each lesson. Each chapter ends with instructions to guide your child in creating their own notebook of what they are learning.
Apologia has made it even easier to notebook by creating Notebooking Journals. Which received the Junior version, which is designed for kiddos who aren't ready for a lot of writing. In addition to the notebooking pages you might expect find in it, it also contains coloring pages (2 in each lesson), copywork (both print and cursive versions of scripture), diagrams to label, and lapbooking elements.
Peter is really enjoying the open-ended flexibility of the notebooking pages---I like the Phytoplankton with the chicken leg.
In addition to providing notebooking pages, the Notebooking Journal has a suggested schedule for completing the course (and an admonition to not try to do everything, there's simply no way you can!).
Peter is populating his box with creatures both real and imagined---you'll notice he has a real angler fish (far right) and a "made up" one (just above it).
I'm using this program with Peter (age 7, with special needs) and Mary (age 9). Peter is intellectually on target or beyond, but is highly distractible and has trouble with handwriting. I chose the Junior Notebooking Journal in the hope that the coloring pages would keep his attention and that the wider lines would be easier for him. Mary is at age level in terms of writing and advanced in reading. I had planned to download and print the free notebooking pages for her.
The schedule provided by Apologia suggests doing each lesson over 2 weeks, 2 days a week. That schedule was unrealistic for us. It was too much in a day for Peter's attention span and too much at once for Mary (who's not a science lover).
There's so much information to digest! Lesson 2 covers all the different types of whales from dolphins to Blue whales….that's a lot cover in 2 weeks.
I decided to read a little each day, 3 days a week, and do the hands-on activities and any extra notebooking on Fridays. Before beginning each chapter, I also go through and add some little sticky-note flags to show me how far I'd like to get each day and make a note on them what notebooking pages apply to that particular section.
I also dismantled the Notebooking Journal!
The book has a large plastic coil binding. It's also organized so that the lapbook mini-book pages are in the back of the book. You either need to rip them out (and risk damaging them) or cut them out of the book.
And flip back and forth.
It made sense to me to just take the whole thing apart and organize it so that I had all of each lesson together.
I filed the lessons into a trusty file box and ta-da!
No more flipping around in the book to find what I need! When we've completed the book, I can put it back together or bind it another way.
I also found that I really didn't need to use the downloaded notebooking pages for Mary---she liked the lapbooking bits (which have narrower writing lines) and Peter liked the notebooking bits, so between the 2 of them they were able to share the Journal, once I had in pieces (makes it easier for them to color at the same time, too).
There's actually a good bit of overlap in the areas that the mini-books and notebook pages cover (in lesson 1, both cover tides, and currents, for instance, including diagrams), but I know that I can still use the download notebook pages to fill in if I need to.
We are also enjoying the "try it" activities and experiments.
Did you know that you can demonstrate air pressure with a balloon and a water bottle? Pretty ingenious!
Yes, we are liking Zoo 2 very much. We especially like it that we are all learning so much. And that the learning sticks.
One night, I asked Peter to tell his Daddy what he learned in science that day.
And he jumped up from the dinner table and drew this diagram, explaining about the continental shelf, the abyssal plain, and more.
That's proof for me.
Overall recommendations:
Disclosure: I received a free copy of this product through the Schoolhouse Review Crew in exchange for my honest review. I was not required to write a positive review nor was I compensated in any other way. All opinions I have expressed are my own or those of my family. I am disclosing this in accordance with the FTC Regulations.