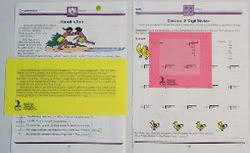 One of the great things about the
TOS
Crew is getting to try out things that
I never knew existed
. These colored frames and readers from Heads Up! are a great example of that.
Heads Up!
is a company that specializes in products intended to help children (and adults) with learning challenges. While their product line is full a neat items designed to help especially with
distractibility
and hyperactivity, I think you'll find that many of these items will work very well for any child. You'll also find links to articles and resources on their website.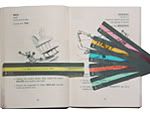 As a member of the
TOS
Homeschool
Crew, I received samples of their
Heads Up! Readers
,
Heads Up! Top of the Line
(Size 2-3/8" by 8")
,
Heads Up Double-Time
(Size 2-3/8" by 8")
and Heads Up!
small
(Size 4" x 4-1/2") and
large
(Size 4" x 9") Frames, all in multiple colors. All of these products have translucent, colored windows designed for reading text through.

The idea is that that bright color draws your child's attention to that part of the page to help reduced distractions caused by other parts of the page. Wonderful for teaching phonics, whether or not your child has learning challenges! Also wonderful for older eyes trying to concentrate on too- small type.
Now, if they could find a way to do this for computer screens, I'd be forever grateful!

Mary chose the pink reader because pink is her favorite color, but some people will find that particular colors are easier on their eyes for various reasons, so the variety of colors helps you to decide what works best for you. The Frames can be used for reading math problems or for dividing pages up into sections for the child who is easily overwhelmed by a page of word problems.
Click on the pictures or word links for more information about each product, or visit the
Heads Up!
website to see their other products.
For more review of these products by other
homeschoolers
, click the link below: